Fall Is Finally Here!
After long months of Denver's summer heat, we are finally welcoming the fall season and all the fun that comes with it! Football games (Go Broncos!), pumpkin carving with the family, sipping pumpkin spice lattes in the office, and roasting marshmallows around the fire pit!
Did you know that not only does a fire pit create an excellent location for warm, October memories- but it also increases your property value?
---
No Muss, No Fuss – Just the Fun
A custom fire pit gives you the fun and comfort of roasting marshmallows over an open flame without the bother and mess of a log fire. All you have to do is turn it on to start the fun and turn it off when it is time to go back inside. Our clients who have asked us to build them a fire pit are some of our most enthusiastic fans!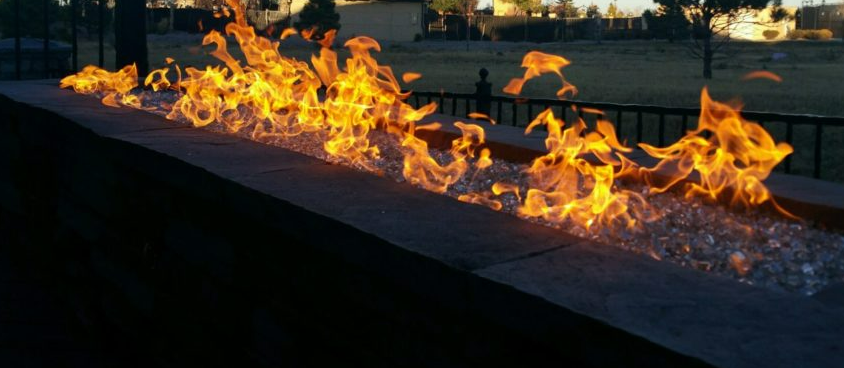 One of our amazing clients, David, writes: "Dale and his team built an amazing deck for us! It included a stacked stone firepit with 700k BTUs! Yes, that is not a typo, it is awesome! The quality and craftsmanship of the deck and firepit are top-notch. Dale was great to work with and answered the dozens of questions we had throughout the process. He was flexible and easy to work with and his crew was great. They finished early and we could not be happier with the results! Our realtor told us it has greatly increased the property value of our home".
---
Fulfill Your Vision
Our designers will work with you to design the fire pit of your dreams. It can be almost any shape you want and as large or small as you feel is right. Whatever you think up, we can make it happen, and do so in a safe manner.
Beyond just the flames, we can add in wave-cut glass backers, etched to match the mountain view from your deck. We can add in colored stone to make the fire bed beautiful in its own right. We have created hundreds of fire pits and know how to get the most out of the beauty of open flames.
If you are thinking of adding a fire pit to your deck in the Denver area, contact us at Custom Decks for a free estimate. We will go over all your options and find the fire feature that is right for you.
---
Custom Decks = The Best Deck Company Serving 4 Metro Areas: