Three Fall Projects That Will Help You and Your Deck Get Through Winter
Winter weather is no joke, especially for those of us who live in higher elevations in Denver, LA, Portland, or Seattle. While you might think of custom deck installation as a seasonal industry, you couldn't be more wrong. Our team works in all types of weather, even through the cold winter months and the blustery weeks Autumn.
In fact, we do a lot of work in the fall for customers who want to use their deck throughout the winter. Here are just a few of the projects we see during the fall season.
---
New Decking
The constant cycle of freeze and thaw that we see during each winter is hard on natural wood. As the protective coating on your wooden planks breaks away under the stress, water infiltration becomes a problem. This results in rot setting into your decking which makes the surface weak in spots and creates a hazardous situation for you and your family.
Replacing those worn out boards with composite decking like Trex products makes the problem simply go away. Composite materials are impervious to weather conditions and won't flinch in even the worst conditions. Making this simple change can add years of life to your old deck system.And we lay our decking down in a diagonal pattern for added strength and beauty. So, when we are finished, your friends will be amazed by your spectacular new deck.
---
Add A Pergola
Another way to protect your deck from rot is to reduce the amount of moisture that reaches the deck surface. Motorized pergolas are a beautiful and flexible way to keep your deck as dry as possible. With just a push of a button, you can turn your pergola from a louvered sun shade to an impenetrable shield against the elements.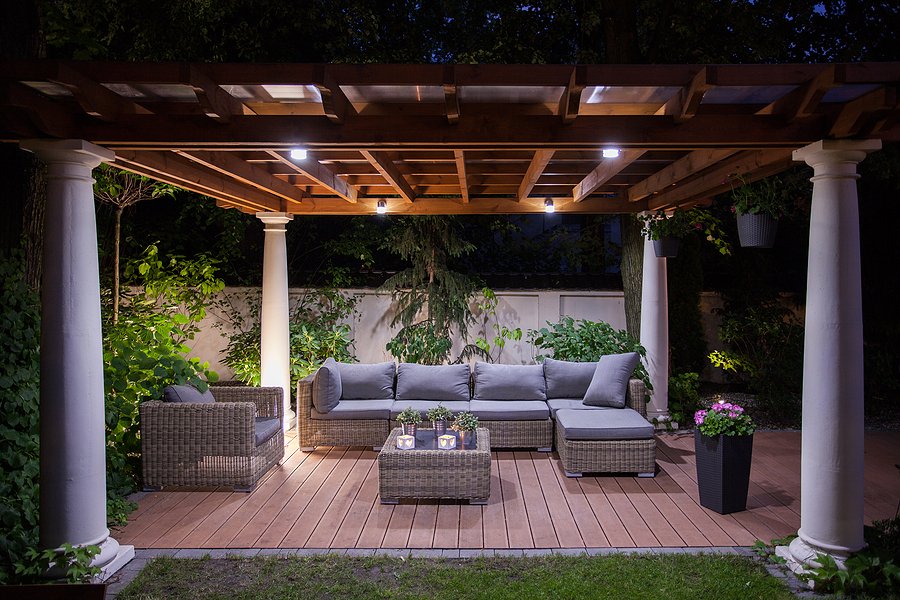 Once the winter weather clears, you will have a beautiful addition to your deck that will allow you to enjoy the outdoors even on a rainy day.
Adding some lighting features to your pergola can make an even bigger impact on the look of your deck.
You'll soon be grateful for your new pergola through good weather and bad.
---
Create Some Heat
Nothing says winter like cozying up to a fire, but who says you have to stay indoors while you do it? Our fire features create just as much heat as they do beauty.
The flames hover safely over a gorgeous stone bed and produce enough heat to take on a cold winter's night.
Plus, each fire feature we build is fully customizable to your unique vision. If you can dream it up, we can find a way to make it happen.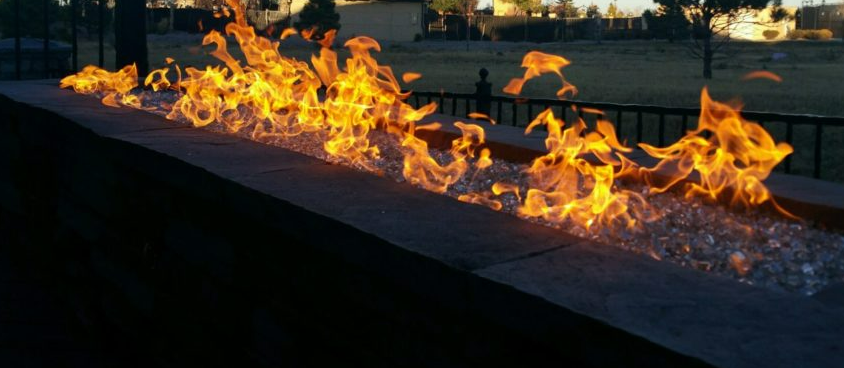 Are you wishing that you could get more use out of your deck in Denver, LA, Portland, or Seattle when the weather turns rough? Well, we are in the wish granting business. Just contact us at Custom Decks and we will walk you through your options. We would love to help you get out on your deck no matter the weather! We look forward to your call.
---
Custom Decks = The Best Deck Company Serving 4 Metro Areas: