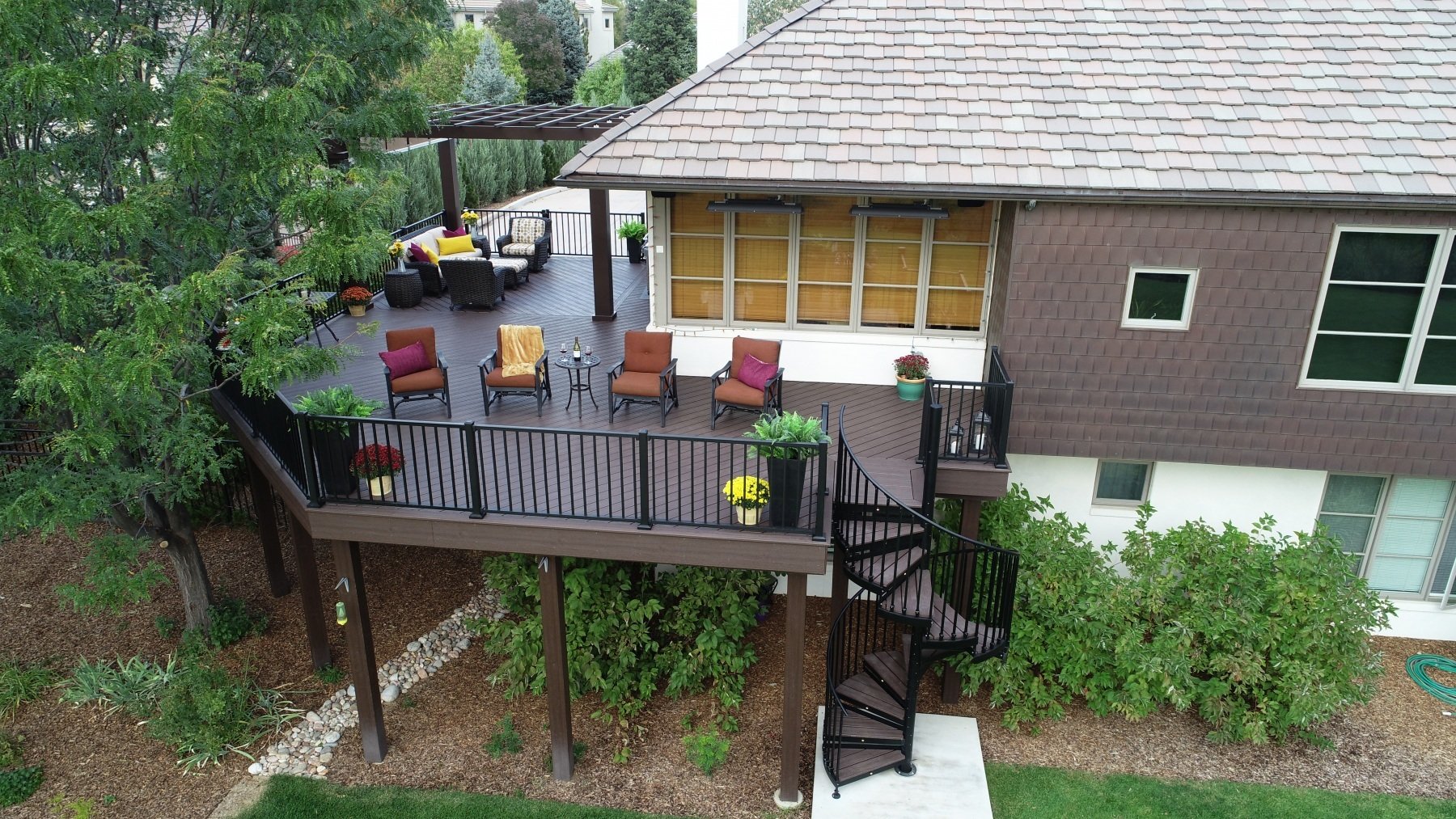 Want The Best Deck Material On The Planet?
The Hands-Down Winner Is Trex.
We've Been Building Decks For 25+ Years, And Trex Is Our #1 Choice For Best-Quality Results.
We've been installing decks for more than a quarter century, so people often look to us for the "real story" on how to get the best-quality deck material.
Here's what we tell them: without a doubt, Trex manufactures the best overall deck products on the market.
---
Who Is Trex & What Makes Their Deck Material Special?
If you're not familiar with Trex, they've been the pioneer in environmentally friendly, composite decking that requires almost no maintenance. Beginning in the mid-1990s, Trex emerged as the leader in top-quality composite deck materials and they are still the undisputed champ.
So why do we recommend Trex so highly? Lots of reasons, including:
Durability –

Trex will not rot, warp, crack, or splinter.

Low Maintenance –

The only maintenance is the occasional cleaning.

Continuous Improvement –

Trex never stops improving their already excellent products.

Trex Really DOES Stand Behind Their Products –

We know they honor their warranties because we've experienced it first-hand.
These are all great reasons to choose Trex… but what about beauty? Just how good does a Trex deck look?
---
What Really Counts: Eye-Popping Results
Trex decking is durable and easy to maintain. But none of that would matter if you couldn't get beautiful results.
Well, good news… you can get STUNNINGLY beautiful results with Trex decking materials.
(Of course, you need to pick a deck company with designers who know how to get you those results!)
We could go on and on about the beauty of Trex decks and how Custom Decks is the exact right company to design and precisely install it for you, but as they say, a picture is worth a thousand words.
---
Check Out These Beautiful Decks Built Using Trex Materials:
---
Environmentally Responsible Choice
Trex composite decking is also a great choice because it has been recognized as the "Greenest Decking" brand for multiple years running, as named by the Green Builder Media's Reader's Choice Awards.
The main reason for this is that the material is made up of 95% recycled plastic and wood, a truly outstanding accomplishment in manufacturing skill.
Trex is also an environmentally responsible choice because it lasts so long. The more use you get out of something (and the longer you go without replacing it), the better for the environment.
---
Outstanding Warranty
A warranty is only as good as the company behind it. Anytime we've had an issue with a Trex product (and it is rare and usually minor), they come through and make the situation right.
You can find out more about this by visiting our Trex Warranty page.
---
Explore The Three Different Premium Trex Decking Lines
With Trex, There Are No Bad Options. Choose Between Great … Even Better … And Absolutely Stunning
Trex has three lines but a total of four groupings of options for you to consider, depending on how much you would like to invest in your new deck. We can help you sort through all the great choices during a free consultation.
Trex Transcend® Decking & Railing
This is Trex's most premium line. Made from 95% recycled materials, the styles and colors can transform your deck into an oasis for relaxation or entertaining. Excellent warranty and so beautiful!
Trex Transcend | Classic Earth Tones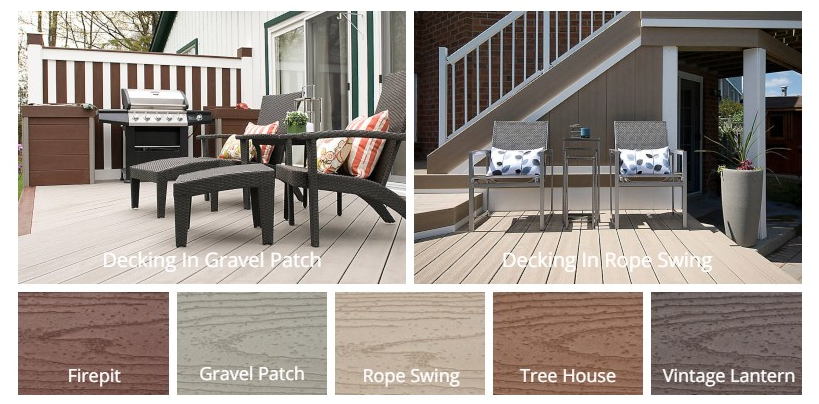 Maintenance requirements will be really low, only requiring the occasional cleaning or spot scrubbing. These boards themselves are designed to keep wear and tear to an absolute minimum.
Trex Transcend | Premium Tropicals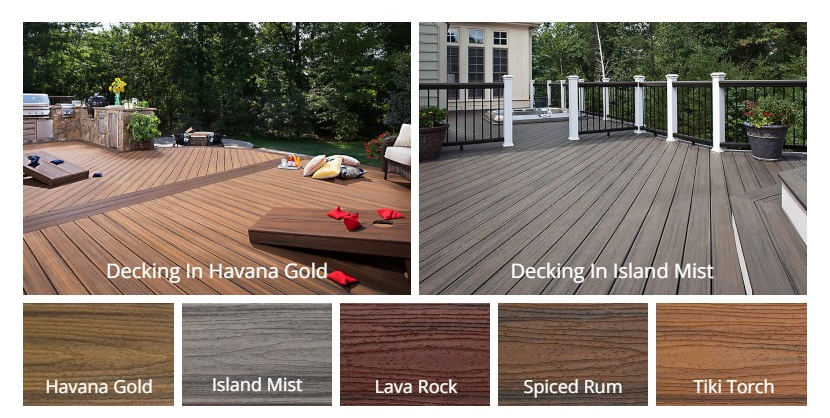 ---
Trex Select® Decking & Railing
Here's another great Trex choice: their streamlined Select line, which also delivers rock-solid benefits and value at more modest prices.
Trex Select® | Decking Colors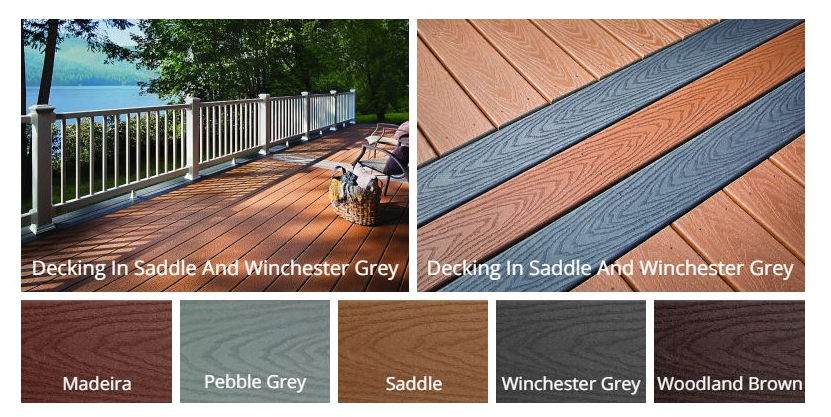 ---
Trex Enhance® Basics Decking
Being scalloped, the boards in the Enhance line are lighter and easy to work with. This choice is more budget-friendly, and it's still a high-quality Trex deck. This line comes in two grades: Basics Colors and Naturals Colors.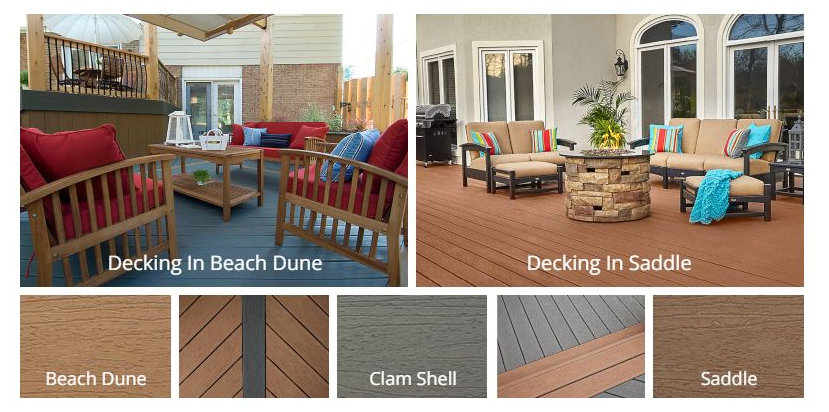 The Naturals line is also made of 95% recycled materials too. Just like other Trex decking materials, this line is capped and has a protective outer shell, but it is a bit thinner than some of the more elite Trex options.
Trex Enhance® | Naturals Colors
---
We'd be honored to talk with you about your decking project. Reach out to us to schedule an appointment.
---
Custom Decks = The Best Deck Company Serving 4 Metro Areas: