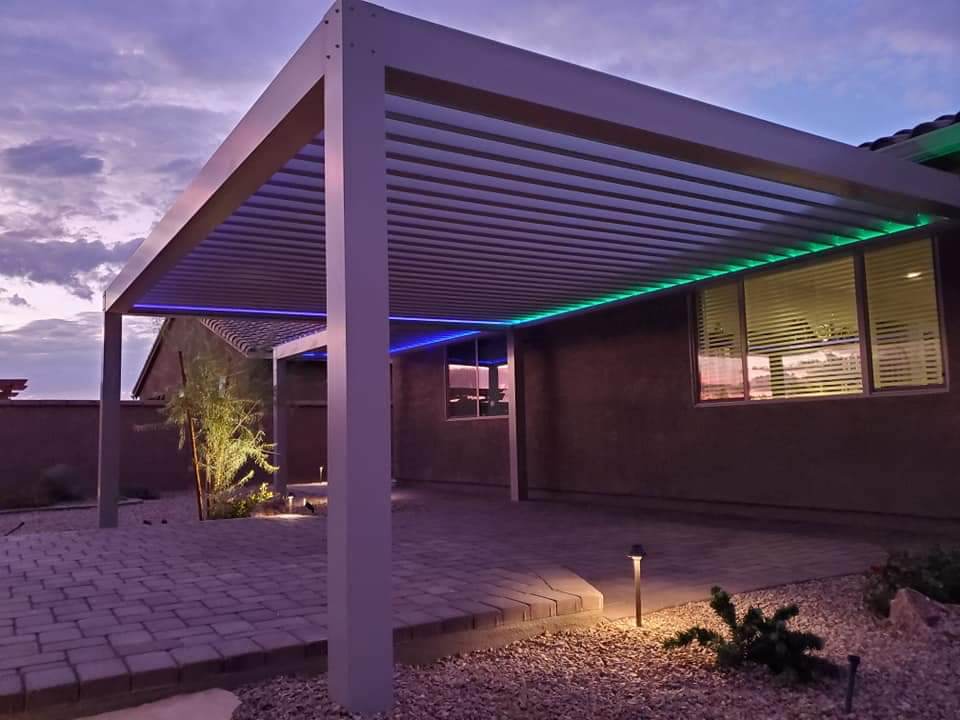 Our Motorized Pergolas Are Beautiful… AND Give You More Control Of Your Outdoor Space
Go From Sun To Shade In An Instant + Enjoy Cover When It Rains
Pergolas are a beautiful addition to go over top of an outdoor living area like decks and patios.
But traditional pergola choices are usually static and the amount of protection from the sun or rain is often minimal at best. These static pergolas can be a great choice for some homeowners – in fact, we offer them.
(For more about traditional pergolas, please click here.)
However, many homeowners have discovered that motorized pergolas give them much more control over their outdoor environment – and without having to sacrifice beauty.
---
The Motorized Pergolas We Install Are The Best On The Market
Here's our philosophy at Custom Decks: never install junk because it always costs you more in the long run.
So as demand increased for motorized pergolas, we did some detailed research to find what was the best. And we found the best: Sundance Louvered Roofs.
Sundance Louvered Roofs have all the little touches that matter including extra support beams, deeper gutters, and a waterproof motor. Best of all, your pergola looks fantastic.
---
More About What Makes Sundance Louvered Roofs Special
These are the top 5 features that make our motorized pergolas sturdier, more attractive, and more resistant to tough weather:
Biggest louver opening in the industry:

A bigger opening allows you to have access to more fresh air, sun, and shade.

Easier and quicker installation:

The ease of installation results in a lower overall cost for you.

4 structural extruded girders inside the louver and 2 vertical stabilizers outside for added stability:

This means your pergola roof has an increased snow load capacity.

Flat, tongue-and-groove style finished ceiling when louvers are closed:

Enjoy a gorgeous view of the outdoors when the louvers are open and a beautifully finished ceiling when they're closed.
3 ways to operate: Operate your motorized pergola with an outdoor remote-control switch, an in-home remote-control switch, and with an app on your smart phone.
---
4 Ways Motorized Pergolas Give You Control Of Your Environment
# 1 – Sun When You Want It, Shade When You Don't
More sun or more shade – both at the press of a button. With a motorized roof, you can enjoy the outdoors in more comfort.
# 2 – Keep Out Rain And Snow
Our motorized pergolas have a built-in optional rain sensor that detects moisture and closes the louvers automatically.
# 3 – Limitless Design And Luxury
We build your motorized pergola to integrate with your overall outdoor space. If can dream it up, we want to build if for you.
# 4 – Cleanup Is A Breeze
When you notice that your motorized roof could use a cleaning, simply pop open the roof 150◦ and hose off the top.
---
Why Choose Custom Decks To Build Your Motorized Pergola?
We are A+ rated with the BBB:

We're the opposite of a fly-by-night contractor. We've been in business for 25+ years and we have the highest rating from the Better Business Bureau.

Top-quality installers paid at the top of the industry.

At Custom Decks, we've always recognized that even the best products will fail if installed poorly. That's why we pay our team better and retain the best installers.

A better process:

The fact is that most contractors handle projects without a planned-out process. That's why so many home improvement projects make you feel like the contractor is "making it up as they go along." At Custom Decks, we have a meticulously planned process, with a project manager and a team of professionals to make sure everything gets done right.
---
Your Next Step
Are you interested in learning more about motorized pergolas? Consultations are free – why not schedule one now?
---
Custom Decks = The Best Deck Company Serving 4 Metro Areas: