Composite vs Natural Wood – What's the Big Difference?
Composite materials for decks in Denver, LA, Portland and Seattle have come a long way since the early days. Composite decking has always been extremely durable though the look was once less than stellar, and the difference in appearance between composite and natural wood was stark. But now composite materials give natural woods a run for their money in the looks department.
No, composite decking has not achieved the glow that comes only from natural wood, but the appearance has improved to the point that composite decking can now be called beautiful in its own right (as you can see below), so it's no longer a decision of substance over style when deciding to go with composite decking.
That leaves other issues to explore such as cost, maintenance, and longevity – and which tradeoff holds the most importance to you personally.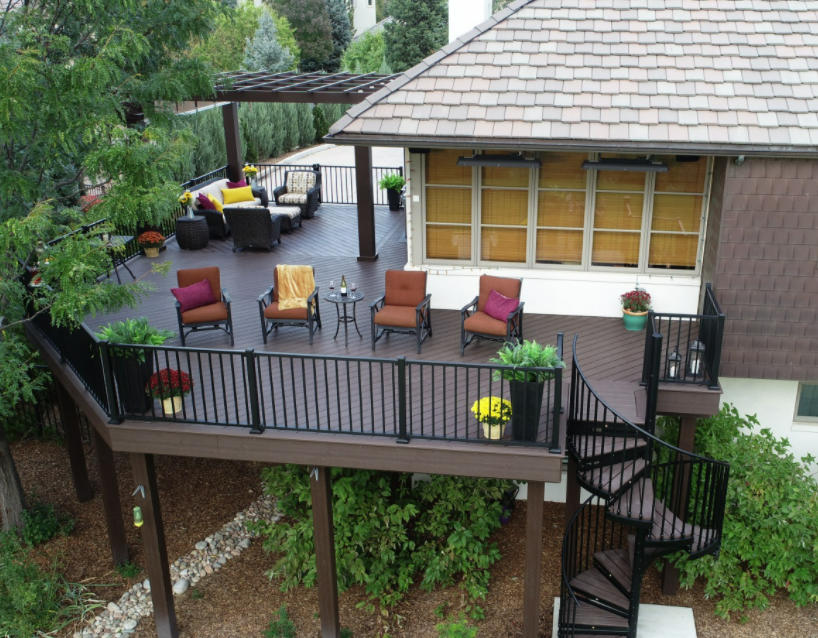 Phenomenal Trex Deck (source)
---
Cost – More and Less Than You Imagine
The upfront cost of using a composite decking material like Trex is going to be more than you would spend on any natural wood decking material. The magnitude of difference is hard to judge, because lumber is a commodity priced material with all the volatility that comes with such things. So the answer to, "How much more?," can only be, "Well, what's the date?". Composites, of course, don't suffer through the extreme price fluctuations and availability issues inherent in the lumber industry but the prices do change here and there.
While we can't give you a solid number here, rest assured that we will be able to give you a proper quote on any material when you contact us at Custom Decks. But the initial quote isn't the whole story on cost. The rest of the price picture is wrapped up in the next two sections, maintenance and longevity.
---
Maintenance
Natural wood needs a lot of attention. You need to make sure it remains protected through reapplication of its seal coating, which wears down as you use your deck and it endures your local weather systems. If you don't stay up to date on your maintenance that natural beauty will fade and the planks will begin to splinter and rot.
Quality composite materials (and that's all we use) need very little maintenance due to their hard outer shell. It resists fading, chipping, and staining and it will never splinter or peel. A twice annual cleaning with a soft brush and soapy water will keep it looking new for years and years.
If you decide to go with natural wood for your decking, expect to invest a lot of time and money into keeping your deck looking its best.
---
Longevity
While we don't participate in "tail light warranties" on any of our products, we are able to offer much more significant warranties on our custom decks that use composite materials vs those we offer on decks made with natural wood. This is why we can offer a full 10-year LABOR WARRANTY on our best composite decks and why the manufacturer backs their materials for an insane 25 YEARS.
We aren't suggesting that wood is a bad choice, it makes a spectacular custom deck that will absolutely take your breath away, but composite materials just do not wear the way natural wood does. Fittings don't loosen from age, boards don't warp from uneven use, and the planks never ever twist. Natural wood? Not so much. You can make natural wood last through careful care but it will never outlast a composite deck.
So, which will you choose? The undeniable initial beauty of natural wood or the durability and great style of composite materials like Trex Decks? The choice is yours to make. Whichever way you decide to go, Custom Decks will design and install an amazing custom deck for you that will last for many years, if not decades.
Feel free to contact us to discuss the nitty-gritty of decking materials for your Denver, LA, Portland, or Seattle home. We LOVE talking custom decks and are waiting for your call!
---
Custom Decks = The Best Deck Company Serving 4 Metro Areas: