Turn Your Custom Deck into an Entertainment Destination
While it is true that your custom deck adds value to your home, chances are that's not why you spent the money. Chances are, you wanted a place to entertain guests and enjoy the outdoors in Denver, LA, Portland, or Seattle. Chances are, you still want to spice things up a little more.
We get it!
And we feel the same way. In that spirit, we offer you the following ideas and custom features to help you enhance your outdoor entertaining experience and get the most out of your deck.
---
Deck & Patio Lighting Ideas
Carefully placed lighting adds drama to the look of any patio or custom deck. We offer tons of opportunities for creating moods with our almost endless array of lighting features. Here are just a few ideas you can use to enhance the look of your custom deck:
Install recessed lighting to enliven your walkways or even incorporate LED technology to add some color.

Replace the finials on your deck posts with solar LED lamps, providing a nice accent during the day and perimeter lighting at night.

Use recessed lighting set into the deck surface for a more subtle effect.

Guide your guests to seating areas with small lights set into your benches.

Use string lights hung from your pergola or canopy to add a festive feel to the occasion.

Add planters with internal lights to create a softly glowing walkway for your guests to follow.
---
Upgrade Your Outdoor Basics
Grills
Outdoor living means outdoor cooking. Your grill and the many tools that go along with it are central to a successful celebratory meal and you want to use a grill that is just as distinctive as your new deck. We can install an incredible built-in cooking system, designed to your specifications, that will serve you in style for years to come.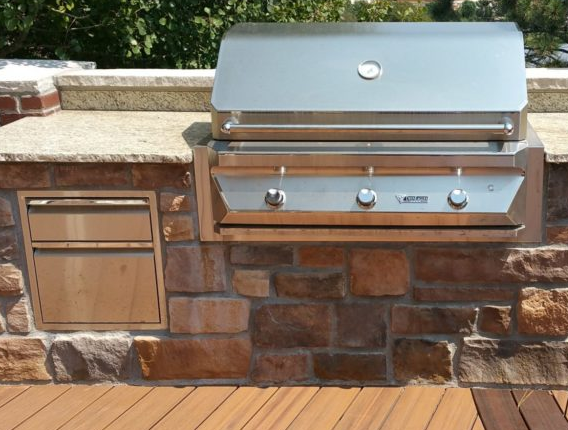 Seating
Setting out some nice patio furniture is all well and good, but we can do so much more! Integrated seating, made of the same material as your decking, looks fantastic and lasts as long as the rest of your deck. Add hinges to the seats and you have stylish storage as well.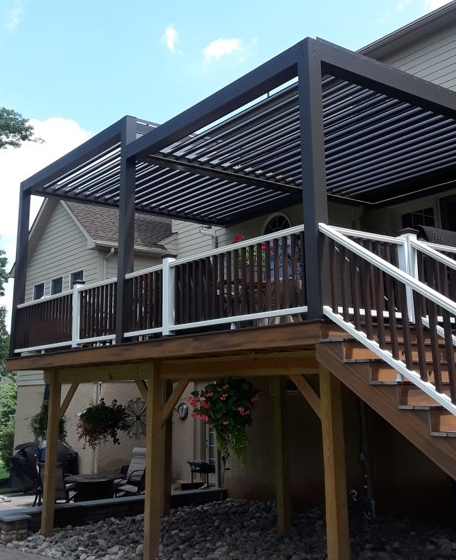 Coverings
You have two main choices in offering shelter to your guests – Pergolas and Patio Covers. While more expensive, motorized pergolas allow you to pick how much shade you want with just the push of a button. Patio covers are permanent coverings that often cover more space, but can't be adjusted to let in extra light.
Fire Features
We can't explain why, but fire is undeniably a beloved part of any outdoor celebration. We have designed hundreds of fire pits and displays fire over the decades and know how to make them into something your friends will talk about for days.

---
Now To Bring It All Together
Not every part of your entertainment budget needs to be labeled under "Go Big or Go Home". While not as exciting as all the above features, we feel that some finishing touches deserve to be mentioned, if only to save you from a last minute dash to the store.
Outdoor Tableware
You don't want to ruin the effect your beautiful custom deck has on your guests by serving their food with paper plates and solo cups, but you don't want to risk your good dinnerware either. Som get yourself a nice set of acrylic tableware and sturdy outdoor utensils. They come in multiple bright and cheery colors and won't break under heavy use.
Insect Control
Nothing will end a party faster than a horde of thirsty mosquitos. Make sure you treat the area with insect repellent before your guests arrive (and before the dishes are put out). It's also a good idea to set some citronella candles around the perimeter of your deck, just to be on the safe side.
Music
Assuming you didn't have us install an outdoor music system (which we can totally do), get some bluetooth speakers to set around your deck. That way you can share your favorite playlist with everyone there.
Portable Shade
Not everyone will fit under your pergola so set some shade umbrellas or pop-up canopies and space them around your yard. That way your guests can get some respite from the sun on those hot summer days.
Outdoor Games
Put up a net and toss some racquets and volleyballs into the yard. You could also set out a bean-bag toss game (or have us make you a custom one right in your deck) and keep score on a white board.
Cleanup
Make sure you have enough garbage containers available to make it easy for everyone to dispose of their trash properly. If you were thinking ahead, you'll have asked us to include stylish rubbish can holders in your design, so all you'll need to do is empty them as they fill up during the festivities.
No matter how big the parties you plan to throw at your Denver, LA, Portland, or Seattle home will be, Custom Decks has your back. We have the experience and the skills to make it easier on you and to keep your friends talking for weeks with the ingenious built-in features of your spectacular deck!
If you want to be the talk of Denver, LA, Portland, or Seattle, contact us at Custom Decks and we'll go be happy to [help you design the Ultimate Outdoor Experience CTA link here]for you and your family. Hope to hear from you soon!
---
Custom Decks = The Best Deck Company Serving 4 Metro Areas: