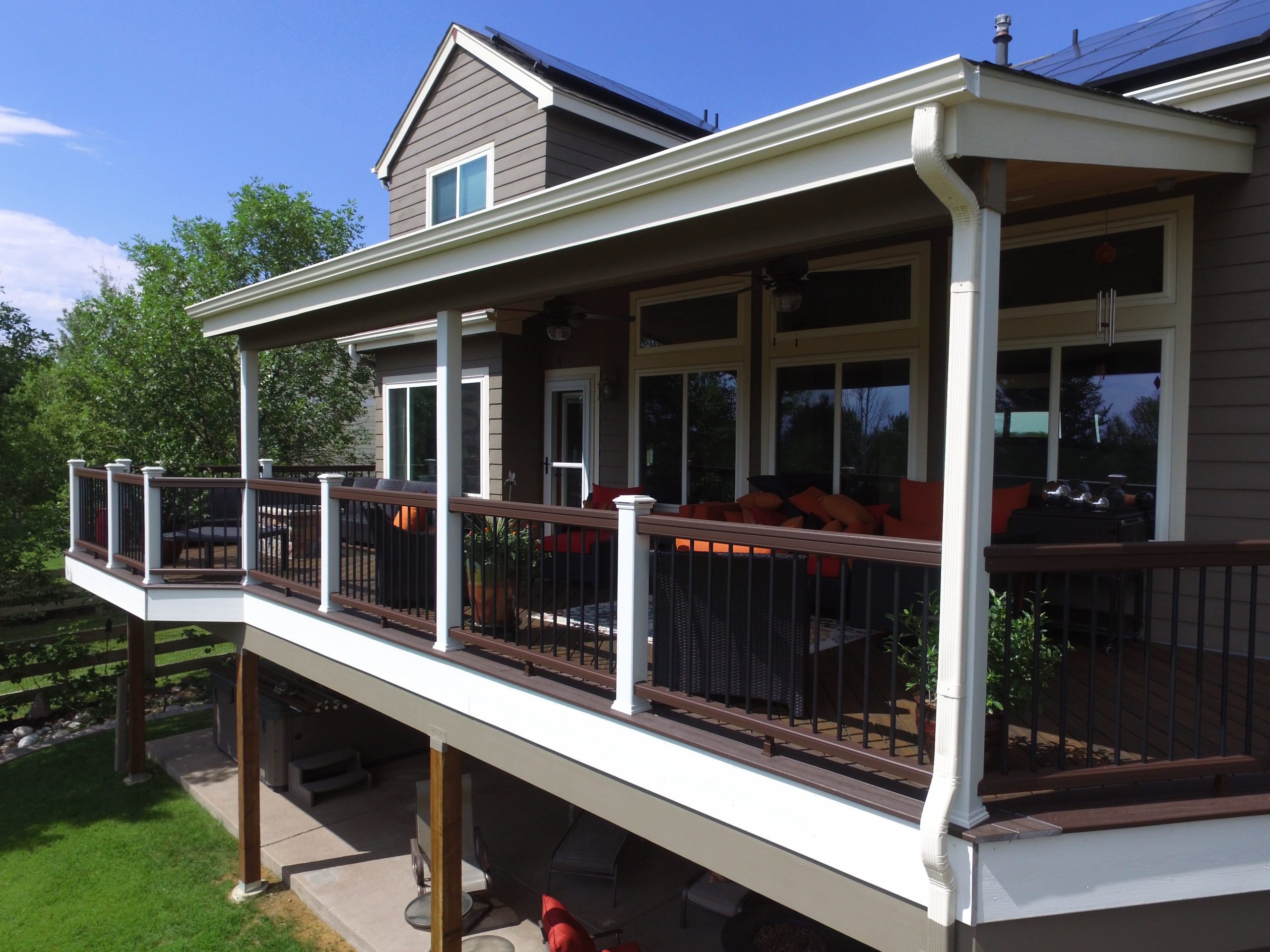 Patio Covers Installed The RIGHT Way
Our Precise Attention To Detail + Top Design Services = A Beautiful Patio Cover
Many homeowners assume that a patio cover is a pretty simple job, and often think that any contractor can do it. Unfortunately, too many contractors assume the same thing, and they will take on a job they don't know enough about.
The truth is that patio covers have to withstand harsh weather and stand the test of time, and that means they need to be installed with no shortcuts and to the highest standards.
Patio covers also need to look good, and they should match the architectural style of your roof and home. So while sometimes a plain style patio cover is the right choice, often it's not. You need a company that can make pro-level recommendations about the best way to enhance the appeal of your home by adding the right patio cover.
The good news is that Custom Decks can and does build patio covers the right way. You can enjoy more shade and enjoy your outdoor space even when it's raining with a patio cover built to last.
---
Some Things We Do Differently
Some contractors are okay with shortcuts ("as long as no one knows the difference"). We're definitely not okay with that at Custom Decks. We think everything we install – including patio covers – has to be installed to the highest standards and with meticulous attention to detail.
Here's what we do to make sure your patio roof is rock-solid and beautiful:
We securely attach your patio roof to the structure of your home and always flash the connection. You might be surprised to find out that this is not always a given. Many companies skip this step. But it's very important to take the extra effort to secure your patio cover to the structure of your home and ensure it's flashed properly to avoid water damage over time. for it to last a long time.
Our installers are not temporary laborers – they're experts and know exactly what they're doing. Some companies – especially smaller ones – can't get enough consistent work to keep good installers working for them. So when they get hired, they find whatever temporary laborers they can scrape up. We pay our team above industry standard and keep them busy. Simply put: our team is the best.
When building something over an already existing area, most companies will quickly tack on the most basic type of roof and call it a day. Not us. When you hire us to build a patio cover for any sort of deck, patio, or concrete structure you have, we are careful to take the time to make sure your patio cover is correctly positioned, securely attached to your home, AND that it matches the style of your home.
---
What Are Our Most Popular Patio Cover Styles?
Many companies will offer one type of patio cover – a shed roof.
We can build nearly EVERY type of patio cover imaginable, over any sort of patio, deck, or concrete structure you have. We also have some classic styles that you can choose from, and we are careful to match it to your home's architectural design.
The type of roof we can build for you will depend on your existing structure, rain runoff, and aesthetics. Check out these three popular patio cover styles:
Shed Roof:
The typical image of a patio roof is a shed roof. It sheds water in one direction, away from the house. This is the sole option offered by most companies. It's pretty basic – what you see is what you get. If you're looking for something with a bit more style, you might consider our other options.
Gable Roof:
A gable roof resembles an upside-down v. It sheds water in two directions, so it provides superb water drainage. With a gable patio roof, you won't have to be concerned about leaks after every rainfall. You may want to consider this roof if you live in an area prone to snowfall or heavy rains.
Hip Roof:
A hip roof sheds water in two or three directions. It offers all the same benefits as a gable roof regarding water and snow drainage, while offering an additional benefit of added stability. If you live somewhere with high winds, this might give you more peace of mind when there are strong gales.
---
Why Choose Custom Decks For Your Patio Cover
We started out in 1996 as a modest deck crew in Denver. Fast forward 25 years, and now we're an award-winning company with an A+ rating with the Better Business Bureau and four locations.
We've grown because homeowners appreciate that we keep our promises. We do what we say we're going to do and we don't play games with prices or hidden fees – EVER.
Customers also love that we have in-house design services and will customize your patio cover. Many people ask us to do the extras that can make a big difference. Things like:
Ceiling fans
Light fixtures
Media equipment
And more – if you can dream it up, tell us about it and let's make it happen
---
See Our Work
We've built truly outstanding patio covers that homeowners love. Here are a few samples of our work for you to see:
Want to see more?
Please visit our Patio Covers Portfolio page.
---
Your Next Step
If you're considering adding a patio cover, reach out to us and schedule a time to talk about your project.
---
Custom Decks = The Best Deck Company Serving 4 Metro Areas: